Coupon Binder Basics
---
I am frequently asked about Coupon Binders and how to make one. Here's my breakdown:
Coupon Binder Basics
A very popular and common way to organize and carry coupons is to create a coupon binder. You can easily organize your coupons, see them all easily, and conveniently carry them with you. Many people prefer this method but it may not work for you. Make sure you are flexible, experiment with your binder, and find what works best for you. One system may work for one person, while others need a totally different system.
Remember, take it slow and build up. Don't go dropping $50 to set up a binder if you don't even know if you'll like it. We are all savers, so do this frugally and build up if you find the binder system works well for you. Wasting money is never good no matter how pretty the binder may be!
The Binder
You really can use any 3-ring binder, but some may be easier to carry around than others. If you are on a budget grab any binder you have laying around your house and get started. If you can afford to drop a few dollars look for a zip up binder. They generally run around $10-$15 dollars, but can often be found on sale, clearance, or thrift stores, so keep your eyes out. I recommend you use a binder at least 1½ inches, and you may need bigger than that as you add more coupons. But 1½ is enough for most people, especially in the beginning. Zip-up binders are very helpful since there is less of a risk of coupons falling out if somebody tips it over. Nothing is worse than being a checkout and having the 2yo dump 1000 coupons on the floor!!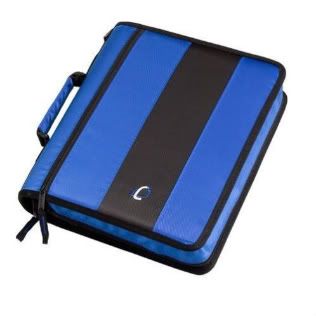 A Carrying System
So what's the easiest way to carry the binder around? Okay so this is not essential but people want to know. You can just carry the binder right? But if you are looking for a way to free up your hands these are two ways. If you have a zip-up binder you can add a strap to the binder. I made a strap by using an old duffel bag strap I had laying around the house. If you need holes added to the binder get a cheap grommet kit (found in the hardware or craft section) for a few bucks. My husband snapped grommets onto my binder in just a minute. A second option for both zip-up and regular binders is a tote bag. Just slip the binder in – its discretely covered and you are hands free.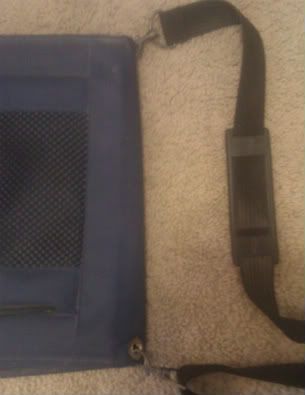 Coupon Holder pages
There are many type of pages with different configurations of pockets you can use for coupons. The most common but also the most frustrating is the baseball card holders. They have 9 pockets and can hold many coupons per page. The downfall- the pockets are so tiny you often have to fold coupons, and getting them in and out is difficult. Another option that I prefer is a currency holder. These can be bought online. They have three long pockets and they fit Internet Printed (IPs) coupons very well, and coupons are easy to access in them. But the downfall is they don't hold as many coupons per page. Photo pages are another option – they have 3 or 4 4x6 pockets and can be found in the photo section of the store. Online you can also locate pages that have 6 or 8 pockets. I recommend you get a combination of the smaller and larger pages to best accommodate all your coupons. You may also want a few single pocket pages, or page protectors, to hold coupon policies, whole inserts, etc.


Dividers
You are going to want some way to divide and mark off the sections of your binder. You can just use a few post-its if you need to do it cheap. A common option is Index pages. I recommend you get ones that you can write on or label yourself versus pre-numbered ones. Some people just prefer to put a sheet of colored paper in with the section title written on it. Just work with it and see what you like best.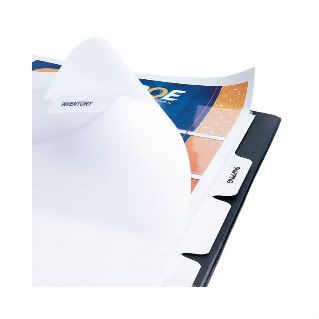 Organizing
This is the part people struggle with the most. How do you organize the coupons? Well it varies for everyone. The first basic choice – alphabetical or categorically? Do you prefer to look for your coupons by the brand name or by the type of product? Alphabetical is straightforward – sort each brand alphabetically. So we will focus more on the categorical. Then you must decide - how many categories and how detailed the categories, and this depends on your preferences. For example – (a) one large health and beauty category, versus (b) one section each for make-up, soaps, hair products, skin products, versus (c) going even more detailed and have hair stylers separate from shampoos, etc. Since so many coupons cover a broad range I prefer more broad categories, but too many coupons in one category can be cumbersome. So you need to find your balance. This balance is usually decided by your shopping habits. If you don't wear make-up a separate section will not be needed, but if you love make-up you may want to break that category down more. I recommend that no matter what categories you choose that you make the front page/section of your binder all the FREE coupons – that way you won't forget to use them before they expire! Once you decide your sections you can organize the categories alphabetically or by the order they are in the store. Here is a list of examples of categories I have seen people list, and obviously some are more detailed than others:
Free Product

Fresh Foods
Fruit/Veggies
Produce
Fruit
Vegetables

Pantry
Grains
Food misc.
Condiments
Spices
Pasta/Soup/Rice
Canned
Boxed
Baking
Condiments
Prepared Sides & Rice
Condiments/Salad Dressing
Pasta
Soup
PB & J
Breads

Snacks
Chips/Crackers
Salty Snacks
Granola Bars/Fruit Snacks
Breakfast
Candy

Drinks
Juices
Beverages

Fridge
Dairy
Meat
Yogurt

Freezer

HBA
Beauty
Oral Care
Soap & Body Wash
Hair Care
Lotion
Shaving & Deodorant
Make-Up
Razors
Deodorant
Personal Care
Feminine Hygiene
Toothcare

Pharmacy
Medicine
Vitamins
First Aid

Chemicals
Household
Batteries
Dish Washing
Surface Cleaners
Laundry
Dish Washing
Cleaning Supplies

Air Fresheners/Candles
Fragrances

Paper/Plastic
Reynolds Ziploc
Paper Products

Pets

Baby

Rebates

Store coupons

Miscellaneous
Extras
Feel free to add a few extra items to the binder. I strongly recommend you have a place to keep the Store Coupon Policies. You may want a place to keep store ads. Some other items that may be helpful – a place to hold all your store cards, scissors, notepad, and of course a calculator.
Maintaining
Remember to be flexible with your binder and find what works for you. Don't hesitate to change categories, move things around, etc. If it is too much of a chore take a step back and find how to simplify it for you. Also, remember this isn't the only way to organize coupons – if it doesn't work for you try something new.
I hope this is helpful! Have fun getting started!
Views
1609
Comments
1
Comments
Posted 09-06-2011 at 05:23 PM by

lisacaballero