Two Any Solider care packages - thanks, couponing!
---
I started clipping coupons for two of our fellow AFC friends and decided to try to coupon for care packages, too. I found troops thanks to
AnySoldier.com
. Being a dog trainer and canine behaviorist I wanted to support people in K9 units. I found a few!
Here are my care boxes: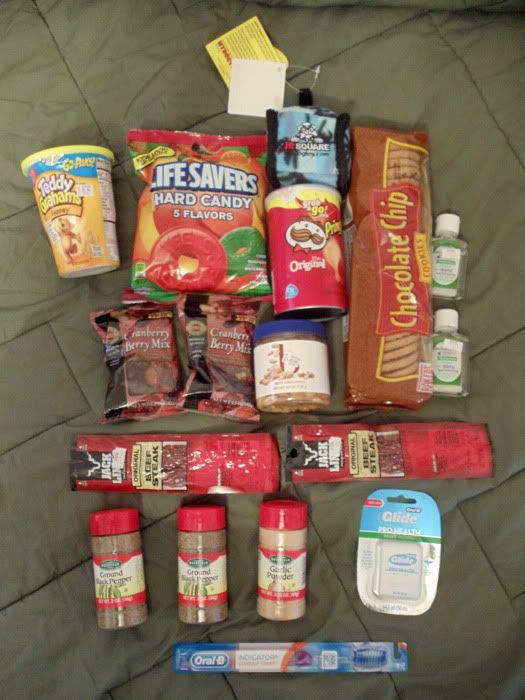 His - he is a K9 handler in Afghanistan. He and his dog are in the Navy and are assigned to an extremely remote area to aid the army. He lives in a cave/mud hut and only has a mess hall available to him - and one that serves "hog parts" for chow at least twice a week. I took items from his list - including a very durable toy for his canine partner.
Total spent: about $10.50
Side note: if you're looking for a VERY heavy-duty dog toy go with anything from the Tuffy line.
Hers - this one is going to a female in a multi-branch K9 military unit in Afghanistan. These canines are bomb-sniffing dogs. Her box is identical to the "his" box save the hair ties - I got these as free samples for sending a complimentary email to Goody.
Total spent: about $7.50
Thanks to couponing the total cost of these packages will be less than the shipping.
The dog toys were $5.99 each on clearance - the majority of the cost!
My next challenge: send out two dog supply-only packages. I need to find more dog treat/food or store-specific coupons. I'm trying to get a donation box set up at my locally-owned pet store.
Thanks so much, AFC, for teaching me so many things! It's so nice to be able to afford to do this sort of activity; I've wanted to do so since I was very young. <3
__________________
Couponing grad student.
To view links or images in signatures your post count must be 15 or greater. You currently have 0 posts.

I have this month's P&G, SS, and more! Check FSOT. PLEASE trade with me!
---
Last edited by happydorkgirl; 07-04-2011 at

06:57 AM

.